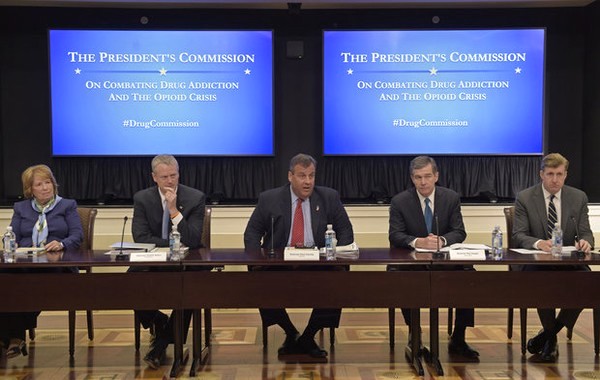 Sis Wenger, NACoA President/CEO
The final meeting  of the President's Commission on Combating Addiction and the Opioid Crisis was held Wednesday, November 1, 2017 at the White House.  The meeting was a testimony to the passion and concern that was driving all the commissioners and those witnesses who attested to the personal pain of addiction's impact on them and their families.
Among those testifying yesterday was former Congresswoman Mary Bono (R. CA), a member of the NACoA Board of Directors, who was a powerful voice in the House for prevention, treatment and recovery support, and who told of the impact addiction has had over three generations in her family.  The final report, which the Commission voted unanimously to adopt, can be found here.
Despite the passion, we are still disappointed not to see clear language about the devastating impact on the children and families who are also tragic victims of this terrible disease of addiction. Without support for family recovery, we will never stop the inter-generational transmission of addiction, and its accompanying family trauma.
While this Commission has presented powerful and important recommendations that should be enacted and funded, this report has the same missing piece that was not included in the Surgeon General's historic report on Facing Addiction last Fall — the children, who are still the first hurt and the last helped.
Across the Atlantic there is a different story with two of NACoA's affiliates: NACoA Duetschland (Germany) and NACoA-UK.
In Great Britain, the Parliament voted a Manifesto for Children of Alcoholics and is working toward establishing bureaus in multiple regions of the country with the charge of protecting and supporting these children.
In Germany, the Parliament established a national commission, with an initial charge of reviewing all legislation to find any language that provides a hindrance to bringing support to children of alcoholic parents in the country. Reducing consumption of alcohol is one of the series of recommendations of the commission to the German government.
NACoA Duetschland was invited to submit their specific recommendations to address the educational and supportive needs of impacted children. Additionally, a national charity lottery is funding the establishment of a program in every kindergarten to help children at the earliest possible age in the educational system. The organization began this effort with the translation of NACoA's Kit for Early Childhood Professionals.
NACoA continues to hope that the passion to support those dealing with addiction in this country will finally spread to include the care for their children, and stop the family transmission in its tracks.
Sis Wenger, NACoA President/CEO, has trained about and advocated for children growing up with parental alcoholism and addiction for over 35 years.