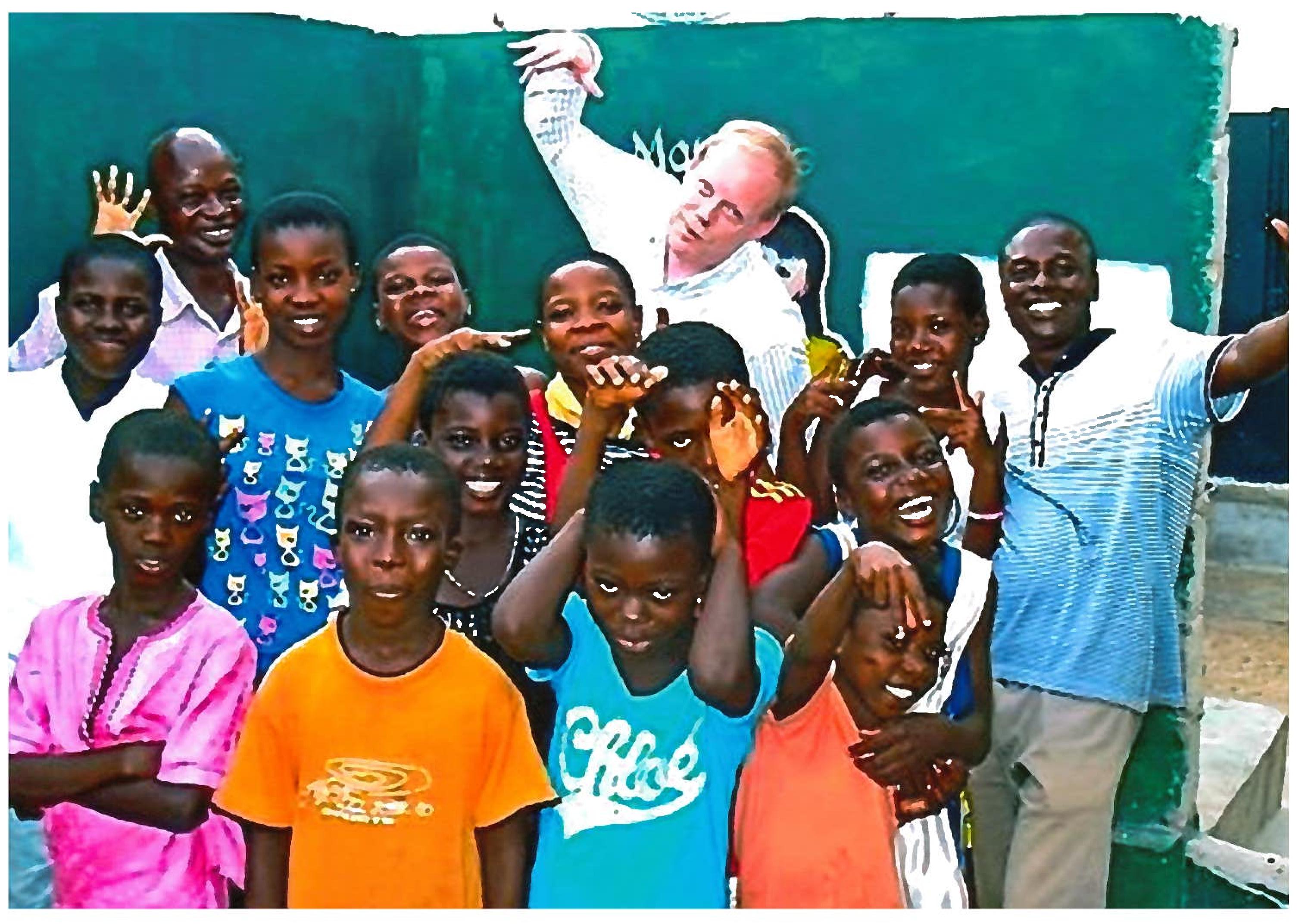 Jerry Moe, M.A., Betty Ford Center National Director of Children's Programs
Africa. It's always held a gripping allure and mystique for me. During moments of prayer and meditation, this has only grown stronger. Doing the 3rd Step Prayer every morning, I asked my Higher Power to guide and show me the way. I had twice been invited to work in Africa, but dates and work schedules precluded these opportunities to come to fruition. Truth be told, neither invitation felt right for a number of reasons. I kept putting it in God's hands.
Last August at the IDAA Conference, I ran into a dear friend and colleague, Dr. Al Mooney from Willingway. I have such deep respect and affection for Al; in the South, the Mooney family is synonymous with treatment and recovery. When the discussion veered to our work travel, Al told me about his deeply spiritual trip to Africa. The Willingway Foundation had partnered with Recovery Africa to assist in helping those still suffering from the insidious disease of alcoholism and other drug addiction find a path to help, hope, and healing. Al looked at me and declared, "You are going to Africa. They could really use your help." All it took was fifteen minutes. This, beyond a shred of doubt, certainly felt right. All in God's time, not mine. I'm going to Ghana!
Now it was time to prepare and study. Alcoholism in the African Family by Hilliard K Dela Dogbe provided rich insight into the roles that culture, religion, and community play for Ghanaians. My true mentors were Dan and Agnes O'Laughlin. Dan had spent many years in Africa in the Peace Corps and then with the State Department. Agnes is a Ghanaian woman of beauty and grace. They are the driving catalysts of Recovery Africa and gently guided me in the customs and mores of these kind and caring people.
Healing from the family disease of addiction centers on creating a deep connection with those who understand. It's no different with children – kids don't care about how much you know until they know about how much you care. Would I be able to create a spiritual connection with people so different from me? Would the games, activities, and tools I've created through the years, with some slight modifications, work as effectively with African children as they do with kids back home? How would they translate with adults? I was filled with excitement, fear, and gratitude, all in one breath.
I was welcomed with warmth and kindness each step of the way. I was particularly touched by the courageous men at the House of St. Francis. The "Changing the Family Legacy" lecture was especially moving as they had never really made the connection between their own addiction and how they had grown up with the disease as little children. The men both laughed and cried. They enjoyed the 'Addiction Game', which gave them deeper insight into the nature of this chronic disease in a visual and kinesthetic way. The 'Bag of Rocks' activity was a big hit at the Korle Bu intensive out-patient program. The participants not only understood how the bag represented the wreckage of their past but also realized how critical it is to come to terms and resolve what is in their own "bag" as an essential part of the healing process. At the Pantang Psychiatric Program, I had the privilege of working with twenty-five family members whose loved ones were in treatment for co-occurring disorders. We did experiential activities to highlight the family disease and explore when helping hurts. Many had questions about their own children and grandchildren.
Heart-felt connections were made and tools and techniques, created primarily to assist little kids, worked so well. My heart was full and my spirit was soaring, yet there was more to come. The National Commission on Civic Education's Service club members had hand selected a group of young children who all shared a similar challenge in their lives – growing up in a family hurt by alcoholism and other drug addiction. I had the gift of facilitating a group with them but would only have one opportunity to do so. This was a far cry from the three or four day all-day process we employ at the Betty Ford Center's Children's Programs.
We arrived early in Jamestown at the elementary school where the group would take place. Jamestown is situated on the Atlantic Ocean, and many of the children live on the beach with their families. As I made my way through this fishing village, my stomach began to hurt. I wasn't prepared for what I saw and experienced. These people have so little materially and face such a variety of challenges, hardships, and adversity on a daily basis. While I've traveled my fair share, I had never encountered anything quite like this. As we headed back to the school, I contemplated, "Why do I have so much and they appear to have so little?".
We moved the children's group to a spot which afforded more safety and confidentiality. This closed in space also provided the extra benefit of more intimacy. These beautiful children all were native Ghanaians who felt more comfortable in their native language, Ga, even though they all could speak English. This would be the only time I required an interpreter during my journey. This talented individual not only mimicked my tone of voice and intonations but would stop and summarize in a passionate way all that I had said every seven to eight minutes. The children all sat on the edge of their seats and listened intently. Here was this stranger talking about something no one talks about – alcoholism and drug addiction in their families. Broken promises, family fighting, worries, verbal violence, children taking on the parental role, never knowing what might happen next, getting hurt, scared their loved one might die – we talked about it all.
I have never witnessed more exquisite, expressive faces in my life. The pain, the hurt, the fear all were etched on their faces. Much like the men at the House of St. Francis, I was putting words to personal stories they had never spoken about. The oldest bravely declared, "My Mom has a curse inside her." "Yes," I responded. "That is addiction and you can't make it better." She looked sad and yet relieved upon hearing this. Finally I asked these children to raise their hands if they were growing up in a family like I had described. Five hands immediately reached for the sky. The others looked around and were uncertain about what to do. Within forty-five seconds, all hands were raised. I put my arm up, too. I instructed the group to keep their hands raised and to look at one another. Finally I told them softly yet strongly, "You are not alone." With these few simple words, a cascade of emotions tumbled out of the children. A handful cried, and others let out a deep sigh. After at least a minute of being with their feelings, I interjected, "It's not your fault. No way. No how," in a couple of different ways. More tears. More emotions.
The connection we forged, in such a short amount of time, was powerful and intense. After I offered them a few ways to care for themselves, I let them know how much I cared about them. Smiles quickly appeared on their faces. I asked if I could take a picture with them to put on my office wall so I could see them, think about them, and pray for them daily. This is a promise I've faithfully kept. Then we got really silly as laughter and joy filled the air. They circled around me for high fives, smiles, and hugs. No one wanted this moment to end.
Even though I had a community presentation to do next, I didn't want to leave. Our time was up, but the children stuck around as well. We talked, laughed, and basked in each other's company. Finally the kids momentarily went off for a juice box and biscuit while I quietly sat, reflected on the experience, and thanked God for this gift. They slowly trickled back and most said their goodbyes. Now there were three little ones left. As I stood up, one put her hand in mine, another hugged me tightly around my leg, while the third playfully gave me a final high five. The young girl holding my hand looked up at me with tears in her eyes and said, "Thank you." I got down on my knees to say goodbye to the other girl who had been hugging me. She touched my shoulder and whispered in my ear, "Love you." Follow up would be provided by the Service Club members.
So far from home, yet in many ways really not. I've been reminded that the fatal disease of addiction is devastating all over the planet. I learned once again that children everywhere hurt from it, no matter where they live. The confusion, guilt, shame, and anger; I know it all too well. The blessing of help, hope, and healing can be ever so close if we just invest in services for these often silent and invisible kids. I realized that being rich isn't a function of material possessions but rather the quality of relationships we make through life. Here I went across the planet to especially meet little ones who live a life so different than mine, yet we connected in such a profoundly spiritual way. I'll always remember their courage, strength, and remarkable resilience. I'll never forget their laughter and tears. I went all the way to Ghana to teach a bunch of kids. They taught me so much more than I ever taught them.
I will never forget.
Jerry Moe is the National Director of the Hazelden/Betty Ford Center Children's Programs.